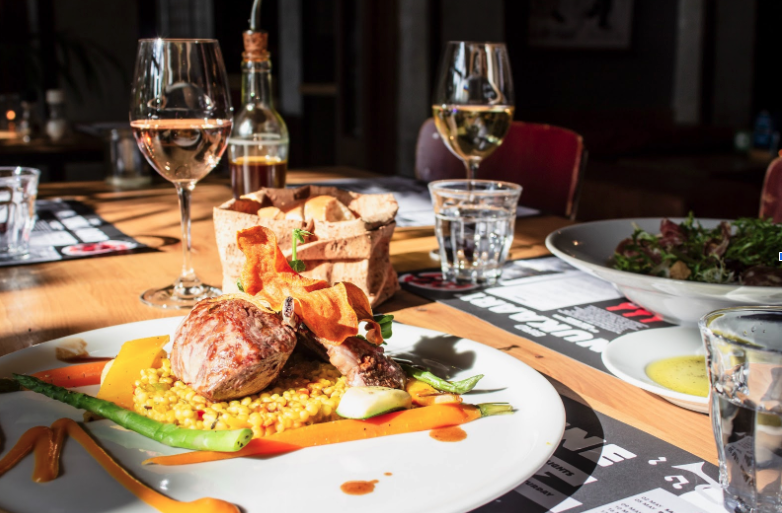 The doors of Melbourne's hospitality venues were shuttered for dine-in services when the federal government announced a nationwide shutdown. Now, dining establishments around Melbourne have been given the green light to start operations again – though within strict physical distancing parameters. As of June 1, venues will be allowed to have a maximum of 20 patrons at one time.
We've collated a rolling list of Melbourne's venues that will be offering dine-in services. It's by no means an exhaustive list of the venues taking action right now; rules and restrictions are changing quickly, and everyone is doing their best to keep up. We recommend checking the social media accounts of your favourite venues for the most up-to-date information.
Note that with the number of patrons capped at 20 people, bookings are essential for all venues on this list unless otherwise stated. Don't be a jerk and do a no-show; people's livelihoods are at stake. 
Where you can eat
CBD
Embla
Book your seat online at one of Melbourne's most-loved wine bars serving food cooked over woodfire from June 1.
Daughter In Law
Modern Indian food served with high spirits, smart cocktails and a punchy wine list can be enjoyed in-house from June 1. Book online.
Mrs Singh
Book your table online to be in one of three seatings at Jessi Singh's 'Champagne disco' where you can pair Champagne (obviously), classic wines and modern cocktails with bar snacks injected with an Indian flair. Don't go past the butter chicken paté.
Marameo
Great news! Marameo will be trading under its usual (and full) hours from June 3, so call your closest friends and plan your lunch and dinners. Bookings are essential via its website and takeaway will run until restrictions are lifted.
Cumulus Inc
Melbourne's original all-day diner is back, with a few changes. Bookings can be made via the website and for parties six and larger. An email will be required to see if the restaurant can accommodate. Seating times will be in place for each service, check the website for more details.
Supernormal
Lunch ramen and dinner banquets featuring Supernormal's greatest hits will be back from June 6. Bookings are possible for both services and available on its website. Email through if you have a party of 8 or more.
Ruyi
Want a venue all to yourself for a private function? Modern Chinese restaurant, Ruyi is offering this from Mondays to Wednesdays from June 4, with regular dining from Thursdays to Saturdays. Book online.
Mjolner
For some escapist dining and drinking, Mjolner is reopening on Fridays and Saturdays from June 5. Walk-ins are welcome, but bookings via the website are strongly recommended due to dine-in restrictions.
Eau de Vie
For speakeasy-style drinking and dining, from June 5, you can book a table or even an event at Eau de Vie. It will be open on Fridays and Saturdays only until restrictions ease.
Boilermaker House
If your whisky collection is looking a bit sad and you're hanging out for some beer on tap, you'll only have to hold out until June 5 for some variety. Boilermaker will be open for walk-ins and functions on Fridays and Saturdays, but bookings are strongly encouraged.
Fancy Hanks
Rip into some smoked meats and southern classics from June 1 by booking a table via Fancy Hanks' website. Capacity is reduced due to government restrictions, so risking a walk-in would not be recommended.
Tian38
From June 1, chilli crab jaffles, bottomless yum cha brunch, short rib Vegemite rendang and taro-misu will be back in action at the modern Chinese diner, Tian38. Walk-ins welcome.

North

Ides
The dining room will reopen from June 4 so you can smash (quite literally) that Masterchef Black Box dessert for yourself. Book via the website.
Bar Liberty

Capacity is severely capped, but word is Liberty will be open for bookings from June 1 via its website. In the meantime, it will continue its ready-made meal service and takeaway bottle shop.

Capitano

This red sauce restaurant will reopen the week of June 1 with bookings available online. Takeaway and delivery will still run until a full restaurant dine-in is available.

Ichi Ni Nana
The benefit of having many private rooms is being able to serve more people. Book a spot for you and your friends via the website to enjoy modern Japanese izakaya food and drinks. Just be aware that each seating is one hour and 45 minutes long, so don't be late.
Builders Arms Hotel

Do you miss the whipped cod roe, cheeseburger and meat from the rotisserie? Well, Builders is back from June 1 for meals in the public bar and dining room. Bookings are essential via the website. Email for parties larger than 8.
Cutler and Co

From June 4, McConnell's fine-diner will open Thursdays-Sundays and will be running a more relaxed service for all-day dining on Sundays. As always, bookings are essential.
Future Mountain

Reservoir's brewhouse will reopen from June 4 with capped numbers for dining and drinking in. Roadhouse BBQ will be providing smoked meats to go with those beers, but if you're unable to be seated, one-litre howlers are still being delivered within a five-kilometre radius.
Red Sparrow Pizza

From June 1, you'll be able to order your vegan pizza and eat it in-store as well. Bookings are essential and can be made via its website.
Old Raffles Place

This family-owned and operated Singaporean restaurant in Collingwood is reopening from June 2. Enjoy its signature laksa, Assam dishes and street food classics by calling 03 9417 4450 to make a booking.
Mary Eats Cake

Book your next high-tea experience at this Brunswick cafe. Enjoy scones, finger sandwiches, desserts and artisan teas from June 4 by booking your seat on its website.
Ciao Mamma

Do you miss receiving your pasta in a bowl rather than a takeaway container? Ciao Mamma is reopening for sit-down dining from June 2. Book via the website.
The Rochester Hotel

Pub meals, pints and good banter will return to the Rochey from June 5. The pub will open on Fridays, Saturdays and Sundays until restrictions are lifted. Booking can be made via email.
Teta Mona

If you've got a hankering for some vegan-friendly Lebanese soul food, make a booking at Teta Mona for June 1 now by calling 03 9380 6680. It's not that the entire menu is vegan, but if you bring your vegan mate, they won't miss out.
Rin Sura

Brunswick neighbourhood favourite, Rin Sura, is back from June 2, dishing up modern Thai food. Call 03 9942 7047 for more information and how to book.
Old Kingdom

If iso-life has robbed you of the communal, sliced-at-the-table, Peking duck experience with a side of sass, cheap BYO and guaranteed good times, then call 03 9417 2438 to book the number of ducks you'd like to push down your face hole from June 1.
Lagoon Dining

From June 4, Lagoon is opening its doors from Thursdays to Sundays to serve up its modern Chinese menu. Bookings are essential and available via the website. If there is a demand for dining in, the team will extend its days of trade.
Carlton Wine Room

The benefit of having so many rooms and private areas is that Carlton Wine Room will be able to serve its anchovy on fried bread, boozy rum baba and excellent wine list to more people than most venues. Doors are set to open from June 1 with seatings being limited to 1.5hrs. Bookings are available via its website and it will be closed on Tuesdays and Wednesdays until the restrictions change.

West

Bia Hoi

Jerry Mai's Vietnamese beer hall and grill restaurant will reopen June 3. Book via the website.
Dukkah

You can enjoy Middle Eastern fusion that is vegan, vegetarian and coeliac friendly in South Kingsville's Dukkah by calling 03 9399 3737 to book your table from June 2.
South

Yagiz

Toorak Road's Turkish fine diner will open its doors on June 2 with a 6pm and 8pm seating, with the ability to accommodate for 20 people. Bookings are essential and can be made via the website.
Omnia

Bookings will be available from June 1 at South Yarra's swanky fine diner.
Bang Bang at the Rifle Club

Bang Bang will reopen with a new menu, serving up the same Asian-fusion flavours it's known for. With limited seats available at any time, bookings are essential and can be made through emailing the restaurant directly with your enquiry.
Bar Carolina

Miss being seen while eating stellar Italian fare? Bar Carolina is opening from June 1 for breakfast, lunch and dinner. Bookings must be made via the website, but don't despair if you miss out, takeaway will still be running until the restrictions are fully lifted.
Tetto di Carolina

Dining in Tetto will resume under varied hours from June 3, with up-to-date hours and bookings available through the website. We hear whispers of a whole new menu, so keep an eye out.
Ichi Ni

The benefit of having many private rooms is being able to serve more people. Book a spot for you and your friends via the website to enjoy modern Japanese izakaya food and drinks. Just be aware that each seating is one hour and 45 minutes long, so don't be late.
Point Leo Estate and Laura

If you like your meals with a side of sculpture park, you'll be glad to hear that Mornington Peninsula's Point Leo Estate and its fine-diner counterpart Laura is reopening from June 1 for lunch, 7 days, and dinner from Thursdays to Sunday. Bookings are essential via its website.
Miyako

This 20-year-old Japanese diner and teppanyaki house in Southbank is taking bookings for June 1 and beyond. With private dinings rooms and different zones, there will be capacity for more than 20 diners, but bookings are still essential via the website.
Oro Bianco

If you plan on going to Dandenong from June 1 and suspect you'll be craving Italian food cooked in a woodfire oven, Oro Bianco is taking bookings via its website. The full menu will be on offer and Oro Bianco will be open seven days.
Ripponlea Food and Wine

From June 3, you'll be able to book into one of three seatings, which run for 1.5 hours each, including a cocktail hour beginning at 4.30pm. The full a la carte menu will be available alongside specials like pasta Wednesdays and Negroni Thursdays. Bookings are available via the website and takeaway will be running alongside dine-in until restrictions change.
East

Mister Bianco

Joe Vargetto will be running an authentic Sicilian menu for dining in, along with the hot pick-up and delivery service. Guests will be seated in the main dining room and also in the private dining areas. Call 03 9853 6929 or email [email protected] for bookings.
Future Future

Bookings for this casual Aussie-Japanese restaurant are now available online. Takeaway will also run until restrictions are fully lifted.
Oster

This modern Italian eatery is now taking bookings for June 1 and beyond. Visit its website or call 03 9428 0749 to make a reservation.
O My

Beaconsfield's farm-to-table favourite is reopening with bookings available from June 4. Book online, via its website.
Augello's

This Balwyn pizzeria and restaurant is reopening from June 1 for reservations. Order from an extensive menu of traditional and gourmet pizza. Ring 03 9830 4700 to reserve your table.